Sulphur Springs 8th Graders WOW Teachers, Parents and School Administrators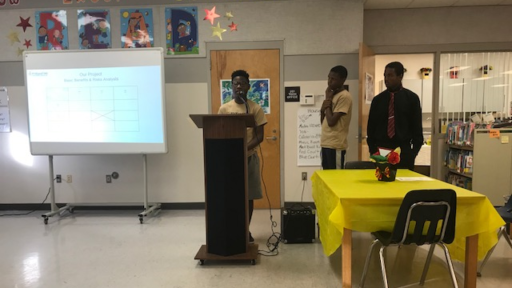 Last fall, a group of young men, all eighth grade students who attend Sulphur Springs K-8 Community School, chose to attend a weekly mentor led Five and Two Solutions Group program designed to improve their decision making by cultivating their ability to produce a vision, develop courses of action, then analyze, and decide on the best and most impactful courses of action for their future.
Volunteers from Five and Two Solutions Group challenged them to define a project that would positively impact others. They chose: How can we make our school better? Divided into three groups, each group developed a plan. Their approach incorporated their reality: start where you are with what you have. Sulphur Springs, where they call home, is an inner-city neighborhood in Tampa and one of the most underserved in Tampa Bay.
On February 6, 2020, each group presented their plan to teachers, parents, peers, school administrators and community members. Each Students presenting their work last February to teachers, parents, administrators team member had a speaking role – in front of an audience, from a podium, with a microphone and accompanying power point! They spoke with confidence. Their pride radiated across the room. Parents, teachers and mentors beamed. Hope was served up in buckets full.
These young men experienced success. They experienced teamwork. They planned and executed a meaningful project and shared it with others.  By doing the work, they developed self-confidence, learned that they are valued and can contribute honor, respect and dignity within their environment and community. Collectively, they found a spark. "Getting youth to discuss and think critically about history and geography in order to contextualize their environment is key to visionary decisions about themselves, their community and their nation," says Five and Two Solutions Group Founder and CEO Berthony Napoleon. Five and Two Solutions believes in self-sufficiency; the solution lies within these youth.
"Youth are the lamps of this nation and there is a segment in our society that remain dimmed in hopelessness. They need a spark to contribute to the brightness of this beacon we call The United States of America. The Five and Two Decision Making Process ignites their ability to assess their environment and organize their assets to decide with a high level of confidence on a course of successful actions toward their vision," says Mr. Napoleon.  "Five and Two Solutions Group has been amazing to my students. Mr. Napoleon, Mr. Miner and Mr. Richardson come every Tuesday to support students and give them a wealth of knowledge. Students always look forward to them coming for their business meeting. This program has been fantastic." says teacher Christian Tramel.